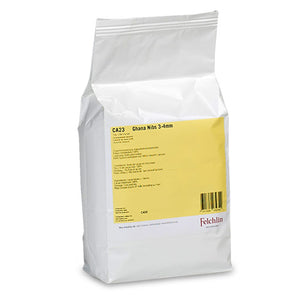 Felchlin Cacao Nibs Caramelized (Ghana Croquant 2-3mm)
502125B
Felchlin Ghana Croquant Nibs are ideal to give your cakes, ice creams or dessert an additional sensory dimension, because they are caramelized and have a unique crunchy yet tender texture.
Add these cocoa nibs to baked cakes, biscuits.
These Felchlin croquant nibs enhance the texture of pralines, fillings, ice creams, chocolate bars, florentines and hazelnut biscuits.
Decorate desserts, pastries, tortes and pralines/chocolates with these Felchlin Ghana cacao nibs.
Felchlin cacao nibs are a great ice cream topping!
Add approximately 10% for fillings and couvertures.
---
We Also Recommend