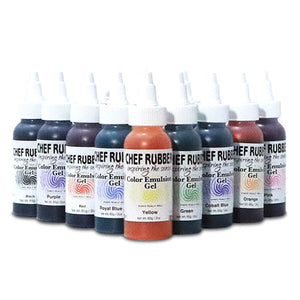 Color Emulsion Gel Kit Primary 12
303100
12 - 2oz Bottles
This is how to color fondant (and more) 
This kit contains 12 colors: Black, Brown, Cobalt Blue, Flesh, Green, Orange, Pink, Purple, Red, Royal Blue, White, Yellow.
Use our Color Emulsion Gels to color water based products such as icings, buttercreams, batters, doughs, sauces and glazes.
Additionally, these water based gels can handily colorize your breads, pasta, and pastries!

You can also utilize this gel color to tint the fondant and gum paste of your choice.
---
We Also Recommend