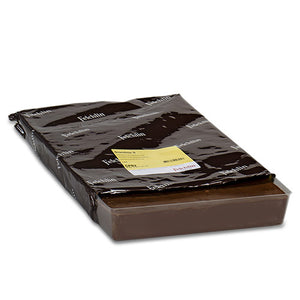 Felchlin Gianduja Dark Intenso Hazelnut Bar
509543A
This is Felchlin Gianduja D Intenso hazlenut bar.
Gianduja has a well balanced cacao taste and contains a high percentage of Turkish Hazelnuts. The result is a perfect texture medium-firm Gianduja with an intense, natural, fruity and nutty taste with a distinct caramel edge.
Due to the higher percentage of roasted hazelnuts, the Gianduja Dark Intenso offers a medium-firm a delicious, natural and nutty taste, with less sugar!

Felchlin Gianduja D is Ideal for cut and moulded chocolates. 
Suitable for confectionery, pastry, flavoring and ice cream.
---
We Also Recommend