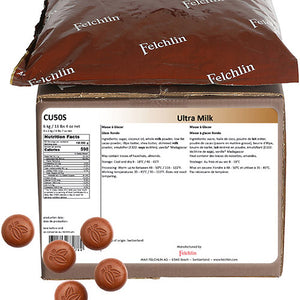 Felchlin Ultra Milk Coating Chocolate
502353A
This is Felchlin Ultra Milk Coating Chocolate.
Felchlin Ultra Milk Coating is the ideal coating for chocolate cakes and pastries, dipping cookies, fresh fruit, and many other applications. Great chocolatey taste!
Use Ultra Milk to coat and fill tortes, cakes, pastries and confectionaries.
Warm to between 48–50°C/118–122°F. Working temperatures 35–45°C/95–113°F. Does not need tempering.



---
We Also Recommend