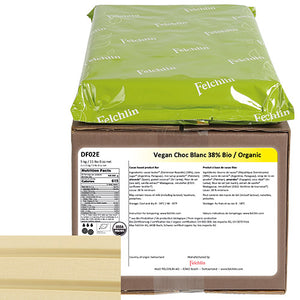 Felchlin Vegan Choc Blanc 38%
503792A
This is premium Felchlin Choc Blanc 38% Vegan Confectionary Mass.
This organic pastry mass is produced with organic rice milk powder and organic Dominican cacao butter.
Felchlin Vegan Choc Blanc has mild and balanced notes of toasted almond, coconut and caramel with a rounded finish of cocoa butter and blossom honey.
Choc Blanc applications include: chocolate bars, cookies, brownies, muffins, creme brulee, pastry-fillings and pralines.
---
We Also Recommend